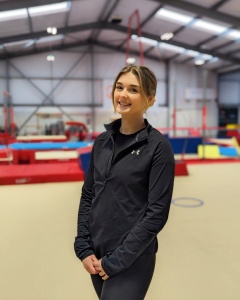 Cara Mckeany
Head Coach (Coventry)
My name is Cara and I am the head coach at Nile Wilson Gymnastics Coventry. I started gymnastics at 4 years old because I was a terrible ballerina and could not sit still. Since then, I competed both regionally and nationally in women's artistic gymnastics until my teens. At the age of 14, I started coaching and absolutely fell in love with it. My favourite thing about being a coach is being a role model to the children and making a positive influence in their lives. I love to keep active and stay strong and flexible so regularly train aerial silks and pole fitness!
Favourite Nile Wilson gymnastics mantra: "you are your only limit"
Favourite quote: "we lead by example"
Interested in joining our gymnastics club?
Please fill out the form below